Background:
A while ago I was asked if blocking off the back of the intake duct on the passenger side would change the conditions of the air entering the airbox.
The Test:
Finally I've got around to assessing the before and after temperatures going into the airbox with the duct opening to the engine open and covered.
Note: I've gone cheap with this test using a 12″ long piece of tape to cover the opening.
For this test I have an air temperature probe installed at the outlet from the stock airbox.
The driver side inlet has been opened, this is the area behind the red scoop – in the bottom right corner of the above photo.
The GTI was operated at steady state driving and also for a pair of third gear, high boost, pulls.
The Results:
With the air duct in the stock Mk7 GTI configuration, open to the engine compartment, the air temperature measurement is shown below:
Air temperature exiting the airbox remains no less than 5 to 7 degrees Fahrenheit above the outside air temperature and during the two high boost pulls there is no significant change in the temperature exiting the airbox.
The next chart shows the air temperature at the same location with the duct opening covered.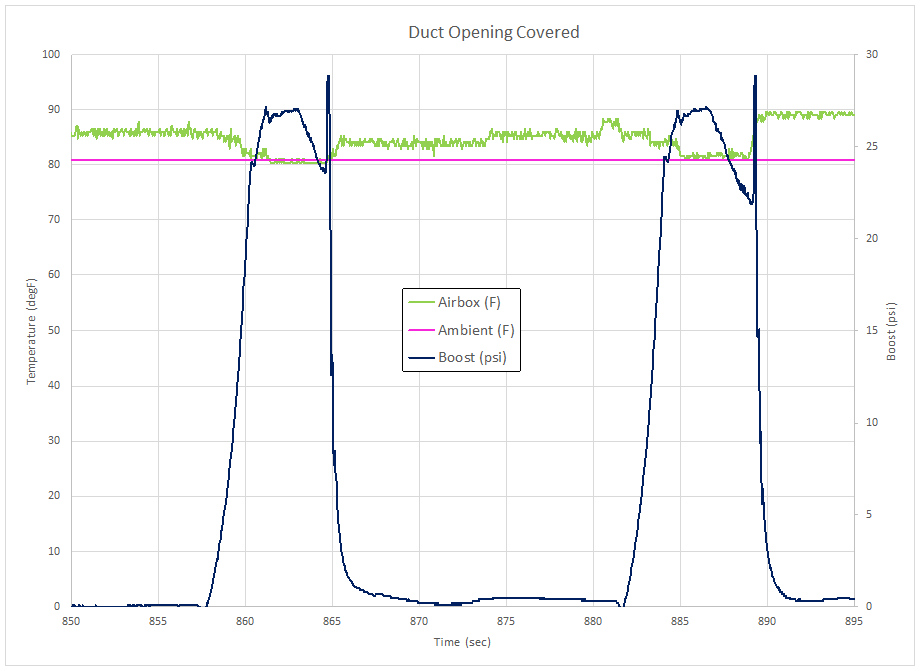 The air temperature exiting the airbox is approximately the same under steady-state operating conditions, approximately 5-6 degrees F above ambient.
A difference is measured during the third gear acceleration under boost with the covered duct arrangement showing a drop in the air temperature to the outside air temperature reading.
Note: During the first data collection the vehicle turned off the road and turned around.  This led to a longer time between acceleration events and also resulted in momentarily higher airbox temperatures due to the low vehicle speed.  In the second data collect the car continued travelling between pulls at a higher rate of speed and the pulls were conducted at a shorter time interval.
Conclusion:
During steady state driving having the intake duct covered or open did not produce any difference in temperature at the airbox exit.
Under heavy acceleration the covered duct produced lower temperatures at the airbox exit compared to the open duct.