The Mishimoto intercooler for the Mk7 GTI / R undergoes flow testing.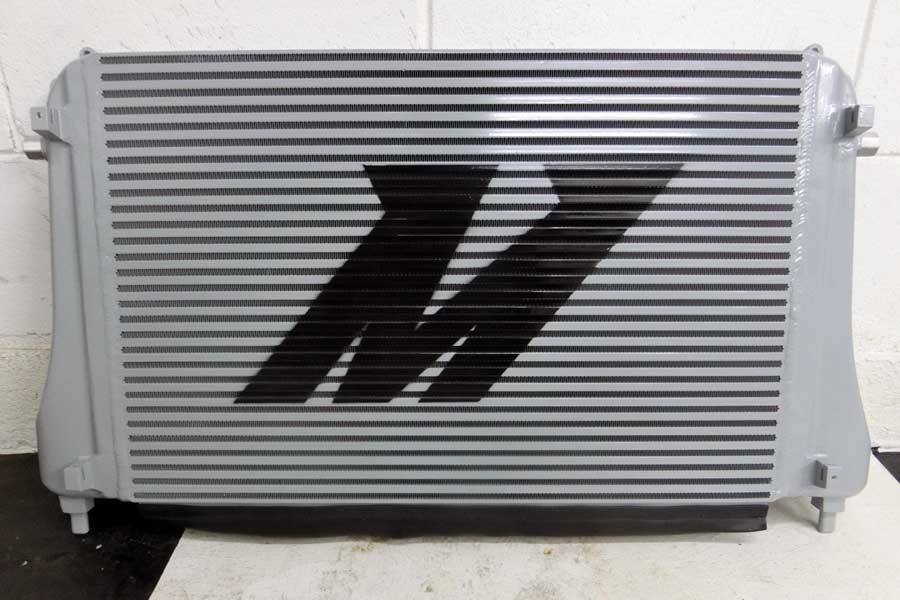 Flow testing is performed at 28″ of H2O. The Mishimoto intercooler flowed 217 CFM.
Results obtained with the Mishimoto intercooler are compared with other Mk7 GTI stock location intercoolers.
Below are results of all intercoolers and intercooler combinations that have been flow tested.
Note: With this test summary airflow readings are being transitioned to a new standard setup. Over the past year and a half the test equipment used for flow testing has evolved. A newer bell mouth design was created that uses a thinner wall inside the inlet hose to open the intake slightly. When repeating tests using the new bell mouth design there is approximately 2 CFM more airflow through the intercoolers. This is approximately equal to the maximum margin of error.
On the outlet side the adapter to the bench has been revised to more closely approximate the throttle body, and this has produced a reduction in the overall airflow. For larger stock location intercoolers a decrease of approximately 12 CFM has been measured. With the lower flowing intercoolers, mainly the FMIC products, the change is less, only around 2-3 CFM less.
Products or combinations that have not been tested with the latest equipment are indicated in the chart with a (-) to show that they likely would flow a few CFM less if tested with the current equipment.
Note: This test is only of flow performance, this test does not correlate with cooling performance.