A discussion yesterday around the airflow performance potential of the cold side charge pipe prompted conducting a test of this part.
Background:
During a discussion about the cold side charge pipe somebody mentioned that Neuspeed had stated that the stock GTI charge pipe was as good as the design could get. They forwarded me a screenshot of the conversation.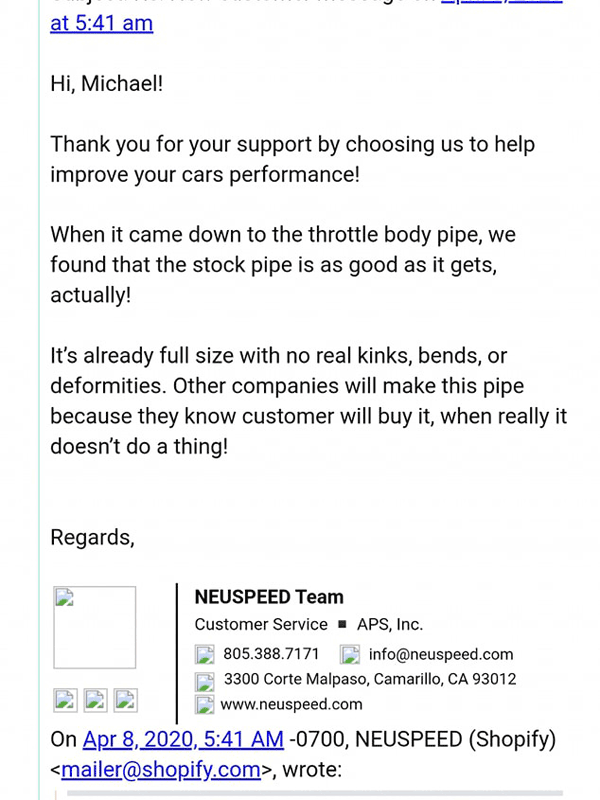 With my curiosity piqued I contacted Neuspeed to find out more detail about how they had arrived at this conclusion.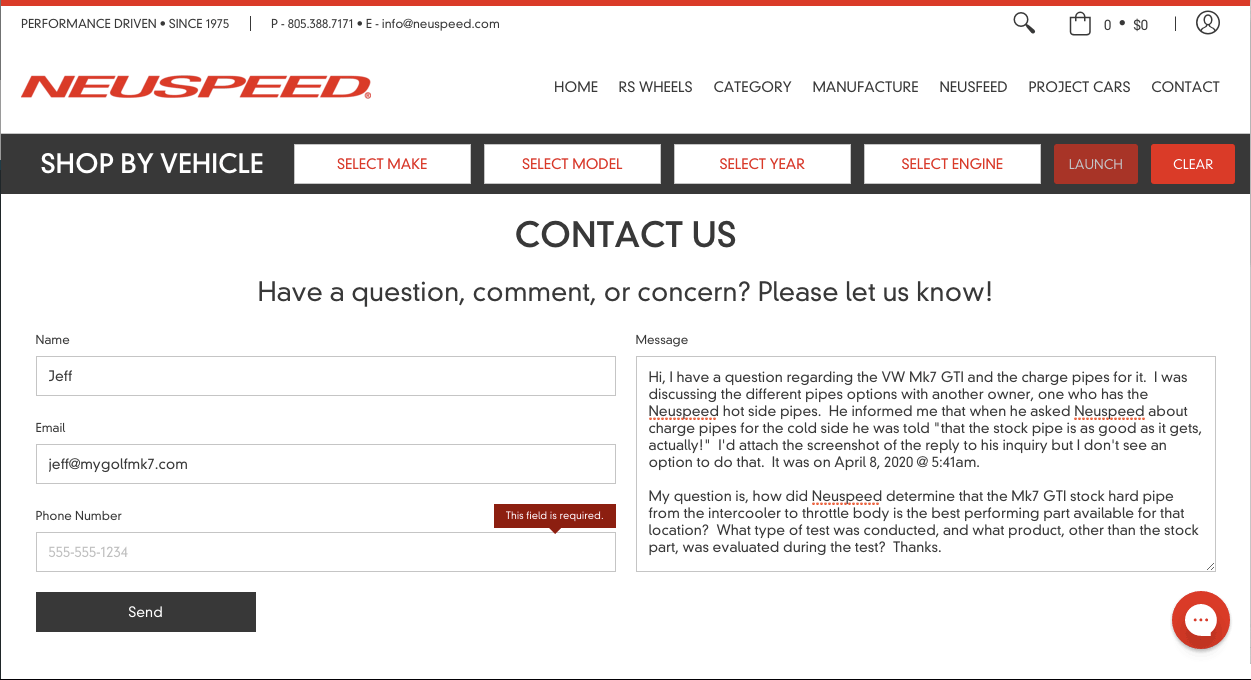 The next day I received a reply, confirming what the other owner had been told; the stock GTI hard pipe is as good as the part can be.
The Setup:
I've not conducted a flow test exclusively with the cold side charge pipe and the reply from Neuspeed made me curious to see if the statement was true, that the stock part performs as well as any part for that location there could perform.
I have a stock set of pipes in the garage as well as a set of eBay charge pipes that I've not yet installed.  (I'm using the Revo charge pipes).  From a casual look at the shapes it appears that there could be some difference, even if small.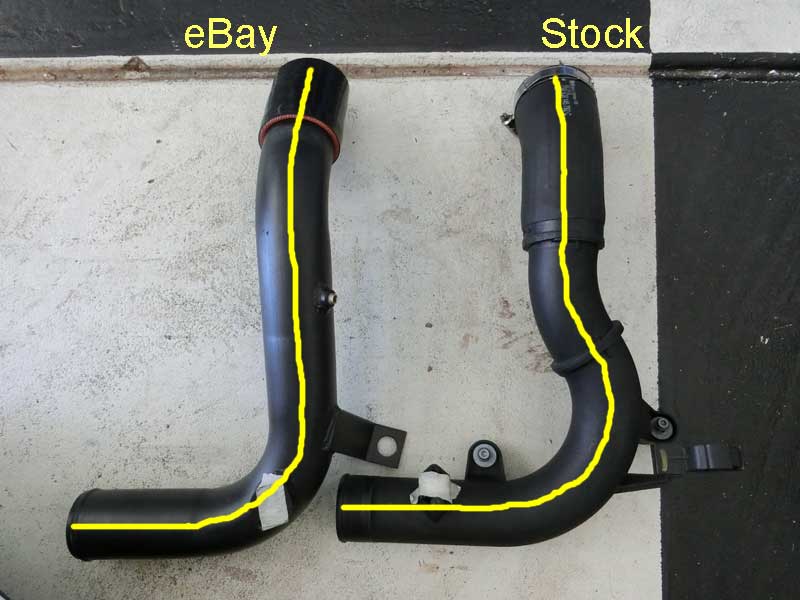 Fortunately this would be a relatively easy test to set up and I just needed to roll the GTI back in the garage a few feet to access the flow bench.
The Test:
For the test each cold side charge pipe would be attached to the stock intercooler outlet hose, which has a bell mouth inserted into the open end to help deliver air smoothly into the parts.
The other end is attached to the flow bench adapter using the stock rubber hose, and a silicone hose with the eBay pipe, as the eBay hard pipe is longer in length than the stock plastic pipe.
Both parts were tested for airflow at a test depression of 28″ of H2O.
Results:
The stock GTI charge pipe flowed 436 CFM and the eBay charge pipe flowed 450 CFM.  These results are shown on the chart: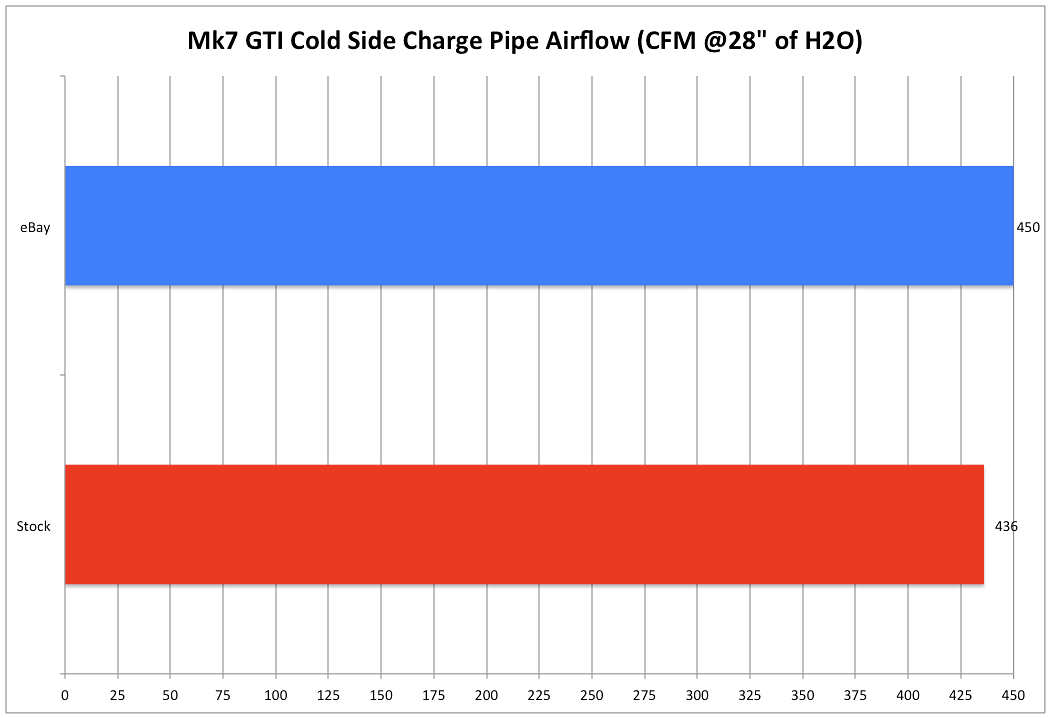 Conclusion:
The eBay charge pipe allows approximately 3% more airflow versus the stock GTI charge pipe at the test pressure.  The claim that the stock GTI cold side charge pipe performs as well as is possible is not validated by this test.