Background:
Recording intercooler performance from different suppliers on my GTI has been a goal for a while. The number of intercooler options, cost of the products, along with a relatively time consuming process of changing out intercoolers on the Mk7 have posed challenges.
To identify the best candidates to go forward with installation I have performed a pair of bench tests to measure airflow and cooling performance. Bench tests have limitations, as do vehicle tests, but I am comfortable with using the results from bench tests to guide my selection of intercoolers to proceed with into vehicle testing.
Product Brands:
The Unitronic intercooler for the Mk7 has been on my car for some time and is an easy source of road data. -*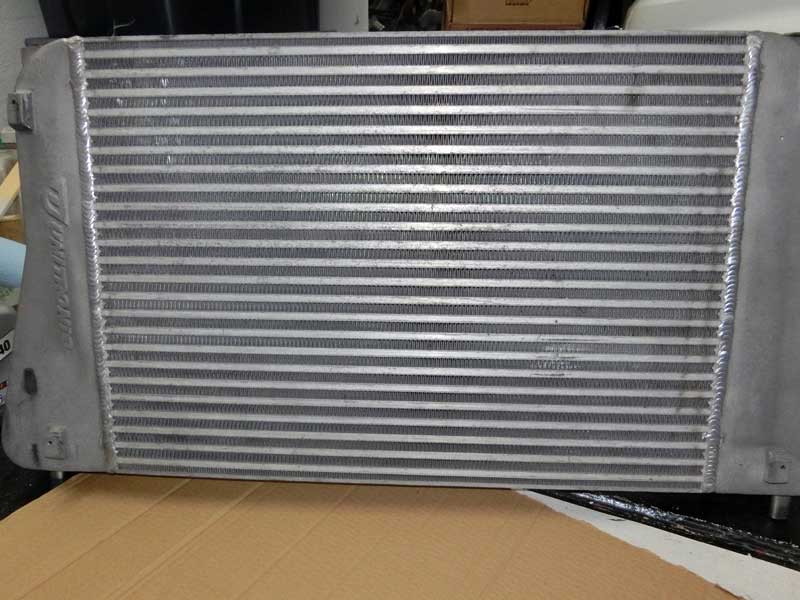 The first "new" intercooler to be installed and tested is from Audi Performance and Racing (APR).
Test Procedure:
Q. How to best evaluate an intercooler on the road?
A. There is no best way that I will have the time or resources to conduct.
There are many conditions that can be candidates for comparing these two intercoolers under. I am choosing to perform full-throttle, third gear pulls, to a minimum of 6,000 RPM, with ambient temperatures around 80F +/- 10F, using an IS38+ turbocharger operating at a maximum of 27 psi +/- 1 psi. These test conditions have been chosen because they represent typical conditions that I would care about how well the intercooler performs in, and the test can be accomplished.
The intake air temperature as reported by the GTI IAT sensor at an engine speed of 6,000 RPM will be the measure used for comparison. The measure will be recorded a minimum of four times.
Results:
Four samples from the Unitronic and six using the APR intercooler are combined to produce the comparison chart:
Note: The box plot is generated using excel and displays the median (middle line), mean (x), first and third quartiles, and minimum and maximum values. The temperature difference between the products is not "statistically" significant when evaluated using a t-test.
The APR results "appear" to be better than Unitronic.
Combining these results with airflow measurements leads to the next chart:
Conclusion:
Disregarding the "statistically" not significant difference in mean temperature rise on the road, and slightly better airflow from the Unitronic, while considering the outcome of the bench cooling tests (shown below), I'm choosing to go with the APR intercooler as slightly better overall versus the Unitronic intercooler.
It's worth keeping in mind that at 6k RPM and ~27 psi of boost that the temperature out of the IS38 is approaching 350F and these two intercoolers bring that temperature down to within 3-4 degrees of each other.
---
* – If it is so easy to get data on the Unitronic, why only four datapoints? Turns out the majority of my logs were with the Uni + eBay bicooler and I did not have much data with the Unitronic only.