Background:
ARM Motorsports sells a front mount intercooler kit for the Mk7 GTI that is very similar to the Vibrant 12810 intercooler used in the Baun Performance kit and the JDEurosport kit as an option to the Treadstone IC.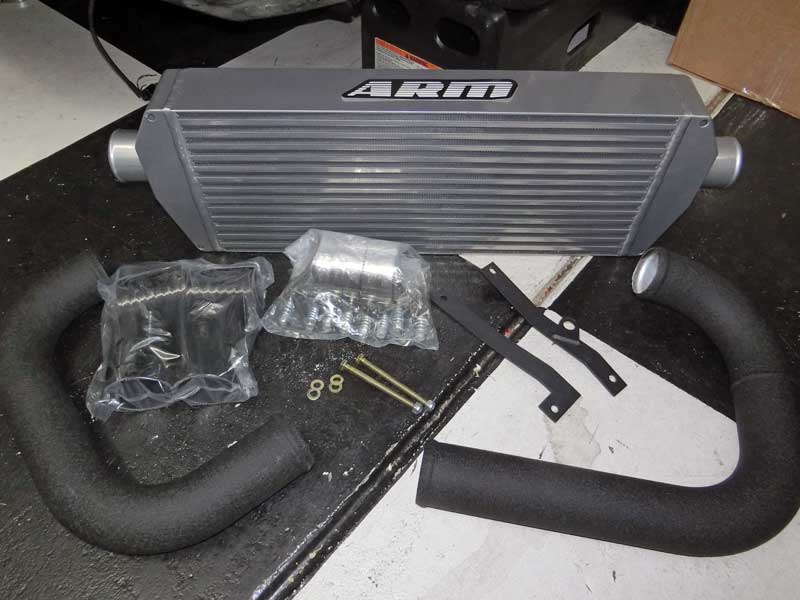 In a previous post the results of a flow test of this ARM intercooler were discussed.  This test is of the cooling performance of the intercooler when tested outside of the GTI.
Test Procedure:
The intercooler is configured to have a steady hot air source feeding directly into the end tank and a temperature probe located in the air stream at the intercooler outlet.
Air flow through the interior of the intercooler is regulated by attaching the outlet to a flow bench.  The intercooler is heated in free air for two minutes and then a cooling fan located directly in front of the intercooler is turned on.  The test continues for another minute at which point the heat source is removed, cooling air continues to blow across the intercooler exterior, and the inlet is free of obstruction to allow the intake of cool ambient air.
Through the test the outlet air temperature is recorded at ten second intervals.
Test Results:
Temperature readings of the ARM Motorsports intercooler are compared with the Vibrant 12810 intercooler on the following chart:
Results below include the Majesty FMIC that is offered as a bicooler option for the GTI / R.  These results are for the Majesty FMIC alone, without the stock location intercooler: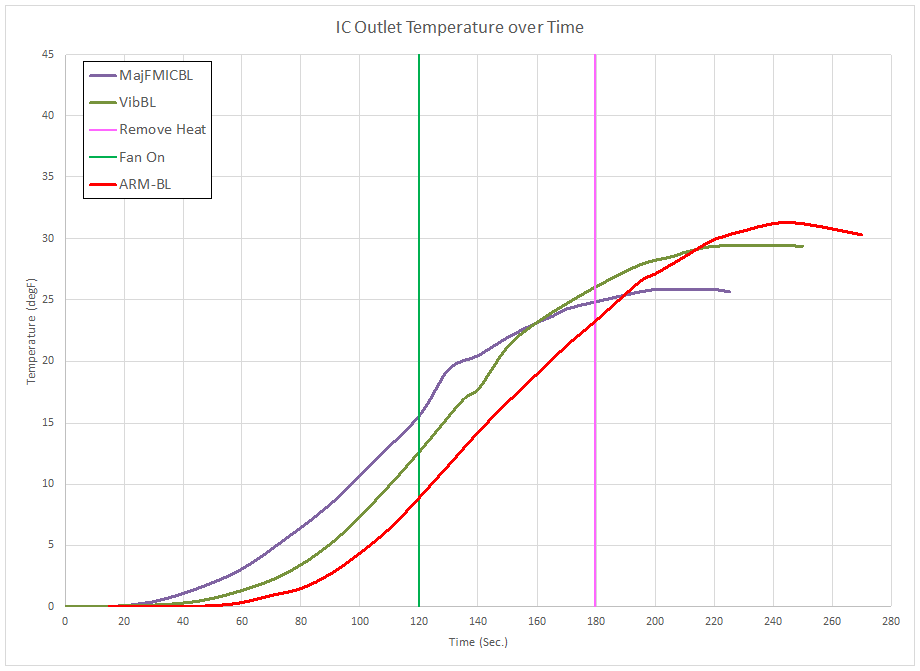 Conclusion:
The ARM Motorsports FMIC performs very similar to the Vibrant 12810 intercooler on this bench test.
The ARM IC takes slightly longer to show an increase in the outlet air temperature and once the temperature begins to increase the rate is similar to the Vibrant.  The ARM IC takes slightly longer than the Vibrant core to respond after cooling air is supplied, shown by the later, higher, temperature peak before the outlet temperature begins to decrease.
One possible explanation for the difference, that is supported by the airflow data, is that the ARM IC has more internal fins or denser passageways.  The flow test showed the ARM IC flows slightly less than the Vibrant, which denser fins could cause, and would possibly make the ARM IC a little better heat sink, shown by the delay in temperature rising at the start.  Toward the end of the test the greater amount of fins take longer to release all of the stored heat as shown by the longer time for the ARM IC to begin to cool.
This explanation for the differences noted in the test is speculation.
Overall, with respect to airflow and bench cooling efficiency, the ARM Motorsport IC performs similar to the Vibrant 12810 intercooler.