Background:
The purpose of this test is to try and determine if the removal of the weather seal at the back of the engine compartment, where the engine compartment and hood meet, will affect the underhood temperatures during daily driving on roads with speed limits of 45 mph and below.
The Test:
A pair of air temperature sensors are installed inside the engine compartment near the MAP sensor and the turbocharger.  The temperature at these locations was measured during daily driving that lasted for approximately 25 minutes.  The test, encompassing back and forth driving, was repeated once for each condition after an overnight period of cool down.
The passenger side grill is open allowing airflow into the engine compartment.  The Eventuri intake draws air in through the driver side only.
Speed during this driving reached a maximum of 45 mph and more often was around 35 mph.  There are periods of stop and go driving during the later portion of the drives.
Results:
Temperature values presented on all charts are normalized by subtracting the ambient air temperature from the sensor reading.
Note: Due to differences in sensor baseline readings there are periods in the first half of the drives where the temperature difference is reported as less than zero.
d1 and d2 signify the data associated with the control variable, the weather seal.
The horizontal axis is time in seconds, the vertical axis is temperature in degrees fahrenheit above ambient.
Shown on the two charts below are the temperatures at the MAP and Turbo during the morning (AM) drive:
---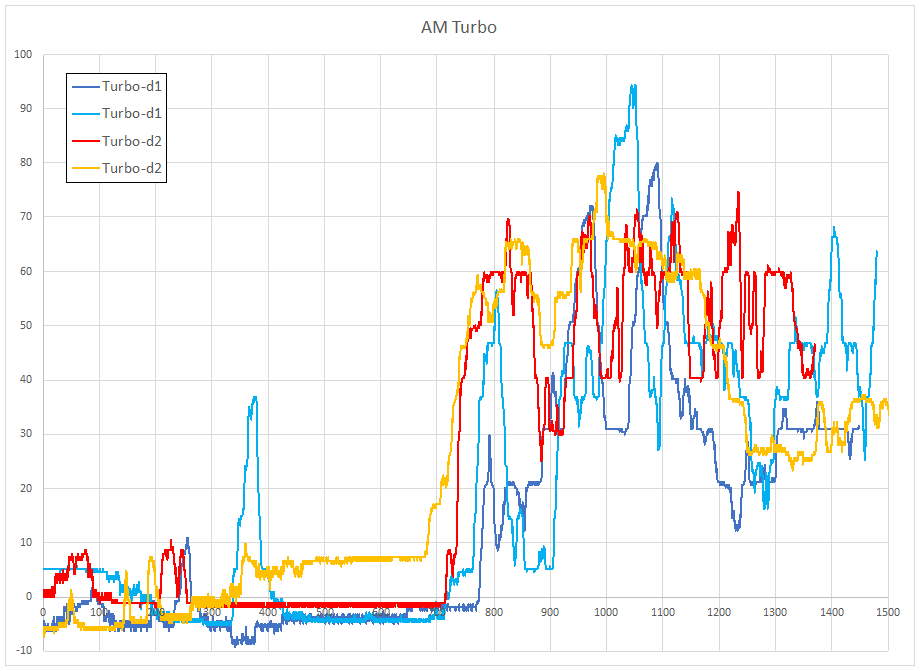 Data for afternoon driving is shown on the next two charts:
---
Hint: d1 signifies the test condition where the weather seal is removed.  d2 signifies the test condition where the weather seal is in place.
Conclusion:
There is no clear difference in underhood temperatures between the two test conditions measured in this test.