Background:
The eBay bicooler has been in use on my GTI for about a year and a half.  It has been working well paired with the Unitronic stock location intercooler.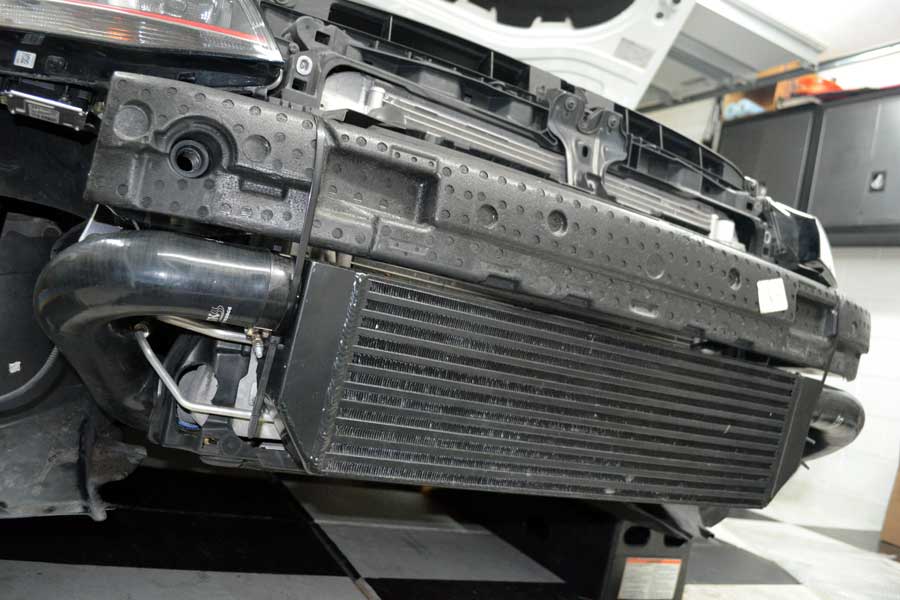 The bicooler arrangement has a couple of benefits versus a stand-alone FMIC or stock location IC.  The passageways for air to flow through are increased and this reduces the pressure drop across the intercoolers, in other words the intercoolers present less resistance to the turbocharger.
The second core increases the total mass of the charge air cooling system and this raises the threshold where charge air temperature starts to increase under boost.  The result is that once going into boost the intake air temperature will remain at a low value longer.  I have not noticed an appreciable lowering of the minimum IAT, it is only maintained longer with the bicooler.
Most data logging has been done over single gear pulls; on the street and the dyno.  It's possible there could be other differences under different operating conditions.
Project Goal
Identifying a front mount intercooler that outperforms the eBay FMIC in the bicooler configuration is the goal.  Criteria for determining a "better" intercooler are:
Fits in the space available on the Mk7 GTI
Can be operated in a bicooler configuration
Total cost is around $500 or less
Pressure drop (airflow) exceeds the eBay FMIC
Charge air cooling exceeds the eBay FMIC
Obtainable – the product is one that I can install and use
Next Step
A search for potential candidates is next to do.