Background:
Continuing to evaluate front mount intercooler options to use in a bicooler arrangement another product for consideration is from Precision Turbo and Engine.  The PTE intercooler has a large front mount core measuring 26″ x 8″ x 3.5″ with 2.75″ inlet and outlet.
Test Procedure:
Testing of the PTE intercooler initially consists of flow testing on a flow bench and then a bench cooling efficiency test.  The flow bench test measures the airflow through the intercooler at a test depression of 28″ of H2O.
The bench cooling efficiency test involves flowing hot air through the core for two minutes and then activating a cooling fan to push ambient air through the cooling fins for an additional minute while hot air continues to pass through the interior of the IC.  Throughout the testing the outlet air temperature is measured.
Results:
The flow bench test resulted in an airflow of 217 CFM through the intercooler.
The image below is of the internal fins of the PTE intercooler.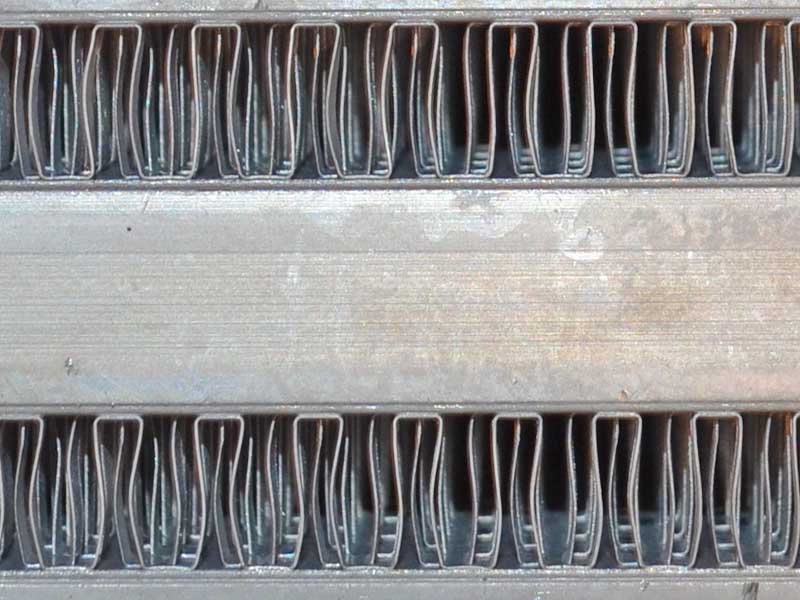 Results from the bench cooling efficiency test compared with the stock GTI intercooler are shown on the next chart:
The PTE IC is compared with the other FMIC options that I have tested in the next chart:
Combining the airflow and cooling data for all of the front mount intercoolers on the next chart:
Conclusion:
The PTE intercooler has very good airflow for a smallish (compared to the stock location IC) FMIC.  It also cools well when operating with cooling airflow.  The ability to absorb heat lags the Majesty and Vibrant products.
Seeing how the PTE performs on the vehicle on the street would be a better environment to compare with the other products given the differences these tests have highlighted.  For the time being that option won't be pursued and I will pass on the PTE intercooler.