Background:
Intake power gains, or the lack thereof, is a regular theme when questions are posed about the "best intake".
The responses are fairly uniform:
The responses are so consistent that sometimes when people ask about intakes they preface the question by stating they "know" that intakes don't make any power:
I was curious to find out if intakes in fact do not produce any power gains.
Test Procedure:
Two intakes for the Mk7 GTI are subject to this "intake power gains" test. One is the stock intake, the other an Eventuri aftermarket model.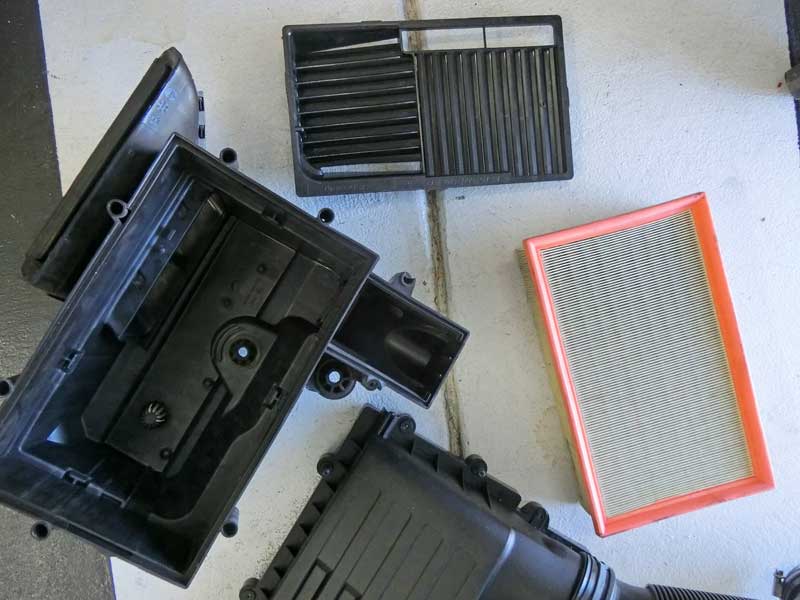 The GTI is set up with the entire stock intake, with no modifications.
Note: I am aware that modifications can be made to the stock airbox.
Note: The turbo inlet elbow is not being tested. Both intakes were tested using an aftermarket turbo inlet pipe/elbow (TIP).
No other changes are made to the car other than the intakes. The Eventuri intake is connected to the stock accordion hose.
The GTI is operating with a Shuenk IS38+ turbocharger and custom EQT ECU tune. Data is recorded during full-throttle acceleration in third gear. The GTI is accelerated from an engine speed of around 2000 rpm until approximately 6300 rpm. A minimum of ten (10) data points are logged using each intake.
Measurements during the period of acceleration are input to the Virtual Dyno application to estimate Wheel Horsepower.
The peak wheel horsepower value is averaged and compared between the two sessions.
Test Results:
The outside air temperature during both test sessions was 79 degrees Fahrenheit.
Data recorded using each intake is shown in the boxplot:
The absence of an overlap of the interquartile ranges indicates there is likely to be a statistically significant difference in the mean horsepower values.
The peak wheel horsepower values are analyzed using a t-Test:
The t-Test confirms that the Null hypothesis, no difference in the mean power output, should be rejected.
The mean difference is 7.8 whp. The median whp difference is 6.5 whp.
Conclusion:
A test using a stock Mk7 GTI intake and an aftermarket Eventuri intake was performed to assess the accuracy of claims that "intakes don't make power".
On an IS38 equipped GTI generating approximately 360 whp an aftermarket intake helped the engine to produce approximately 7 wheel horsepower more than using the stock GTI intake.
Claims that "intakes don't make power" are not supported by the results of this test.