Induct Performance included their Mk7 air intake system along with a Turbo Inlet Pipe that they provided in support of the TIP Ranking tests.
This intake is the first open style system that has been flow tested here with the PTS flow bench.  The first configuration to be tested was with just the intake pipe and filter and an adapter that has been used with other intakes to connect the intake to the flowbench.  The adapter simulates the opening of the stock size turbo inlet elbow.
The inlet pipe & filter flowed 596 CFM @ 25″ of H2O.  This is a departure from standard test procedures that usually entail testing at 28″ of H2O.  The change was made due to the flow bench having a maximum airflow capacity of 600 CFM, and the Induct intake only reached 25″ of depression when the maximum test airflow was reached.
Conversion to other test pressures is possible through calculation.  With the test having come close to the standard test pressure of 28″, the conversion, which is an extrapolation, should be fairly close to what would have been achieved if a measurement could have been made.
Adjusting the result to 28″ of H2O produces the value shown on the chart below: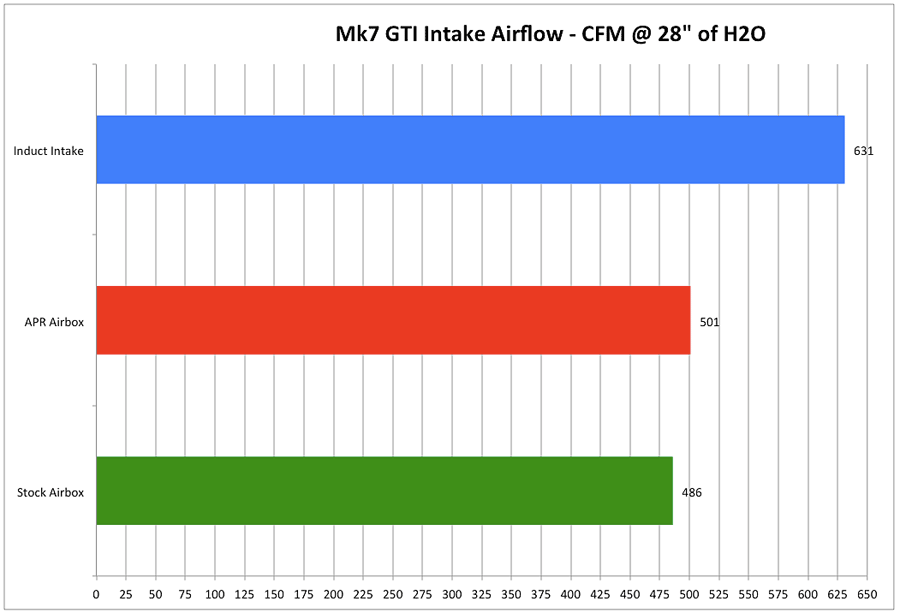 The Induct air intake flows approximately 30% more air at 28″ of H20 than the stock Mk7 GTI airbox.
The next test involved attaching the Induct turbo inlet pipe to the intake and attaching the assembly to the flow bench with the printed adapter that models the turbocharger compressor housing inlet.
Results with this arrangement are shown below:
As expected, the addition of the inlet elbow leads to a reduction in airflow through the intake.  Compared to a stock setup the Induct Performance parts yield a seventeen percent gain in airflow.
Note: The APR intake results are with a silicone adapter instead of the 3D printed adapter.  It is probable that the APR results would be slightly less than as shown if the printed adapter had been used.
Conclusion:
The Induct Performance intake system produces clear gains in airflow over the stock Mk7 GTI intake components when measured with a flow bench.