A second area of performance evaluation in connection with the search for the best Mk7 air intake is to measure how the candidate airboxes do in terms of intake air temperature.
Many air intakes are billed as "cold air" intakes and make claims about delivery of cold air to the car's turbocharger.  To measure how well the products perform in this regard a temperature sensor probe has been installed in the stock Mk7 GTI turbo inlet elbow.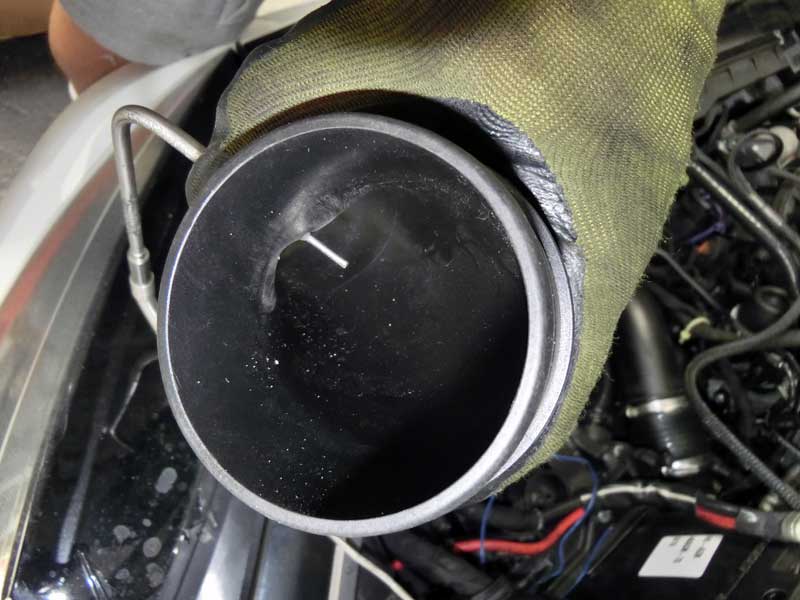 The inlet elbow is the last piece of the intake path that air passes through prior to entering the turbocharger compressor housing.  If an air intake system can deliver "cold" air to the turbocharger, this is the location that is best situated to record the temperature of the air delivered to the turbo.
The photo above shows the probe tip extending into the area where air will flow through when the part is installed on the Mk7 GTI.
In the photo above the inlet elbow has been installed onto an IS38 turbocharger and is ready to receive the inlet hose that joins the elbow to the airbox outlet.
Data recording will be made continuously during drives that last approximately 30 minutes.
Temperature readings will also be made at the entry to the airbox, or in the case of an open element filter such as the Integrated Engineering CAI shown above, the second temperature probe will be located along the intake air path in the area of the grill opening, shown below.
With the temperature probes in place and data logging equipment installed the Integrated Engineering Cold Air Intake is prepared for the temperature measurement phase of the best air intake test, shown below.