Charge pipes are advertised as an upgrade option for the Mk7 GTI.  These are pipes that pass air from the turbocharger to the intercooler inlet, and the intercooler outlet to the throttle body.
Aftermarket pipes are advertised as smoother, larger, and more free-flowing than the stock GTI pipes.  Several charge pipes are tested under different configurations to evaluate the affect on airflow.
First: Through a stock GTI intercooler
Results using the stock GTI pre-IC charge pipe, Neuspeed charge pipe, and eBay charge pipe are shown below.
Note: Previously it was shown that aftermarket Turbo Muffler Deletes (TMD) do not produce any difference in airflow through the charge pipes.  In the charts the stock Turbo Muffler is labeled as TMD to stay consistent with how the equivalent aftermarket part is identified.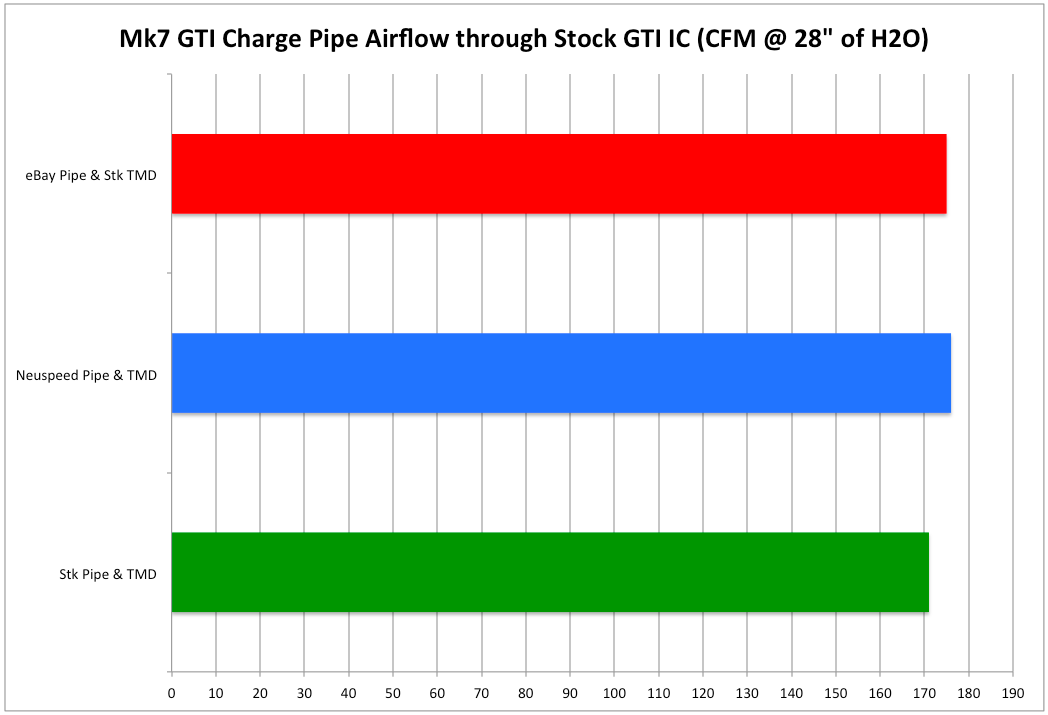 Results:
The Neuspeed and eBay charge pipes show a slight gain in airflow over stock.
---
Second: Through an eBay DF intercooler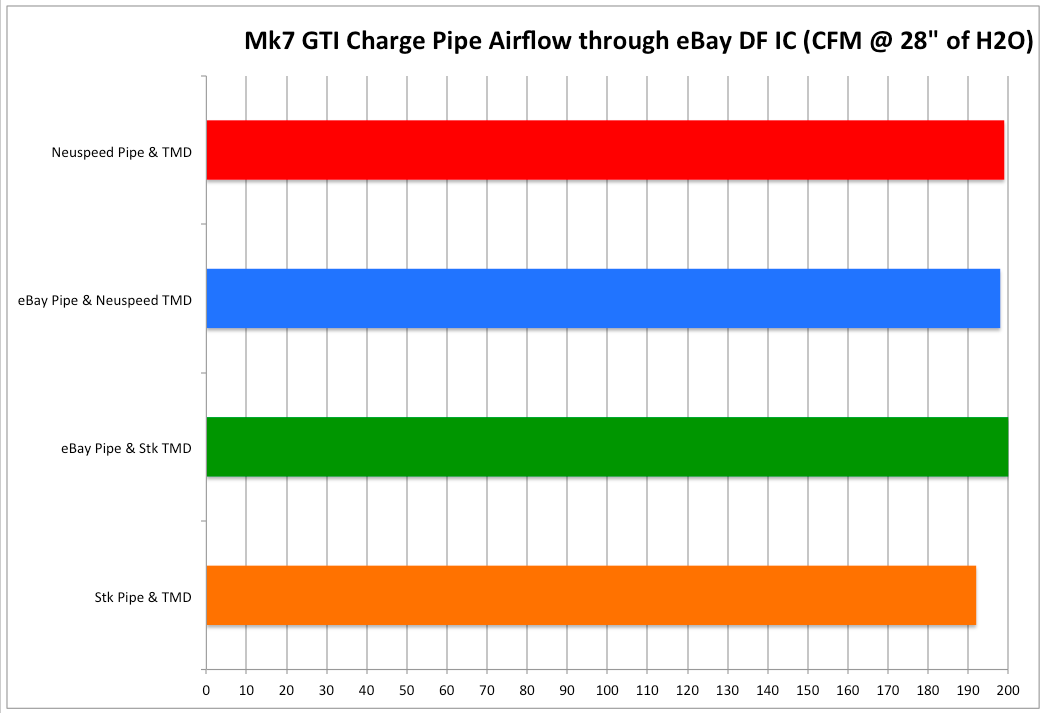 Results:
eBay and Neuspeed charge pipes show a slight gain of airflow versus the stock GTI charge pipe.
Note the eBay charge pipe does not generate any additional airflow using the Neuspeed TMD versus the stock GTI TMD.
---
Third: Through a Front Mount Intercooler
Results:
eBay charge pipes yield slightly more airflow versus the stock GTI charge pipes.
Note: The eBay charge pipe joining the IC to TB is shown in the top, red bar.  Adding the eBay throttle body charge pipe increases airflow slightly over the stock GTI TB charge pipe.
---
Fourth: Direct to Flowbench
Results:
The eBay pre-intercooler charge pipe flows more than the same CTS charge pipe.  The Revo charge pipe flows more than the eBay and CTS charge pipes.  Stock pipes were not tested in this configuration.
Conclusion:
Airflow testing of several charge pipe options using a flowbench produced results that show aftermarket charge pipes provide a small gain in airflow, ranging from 3%-4% with just the pre-intercooler charge pipe to 5% with the addition of the post-intercooler charge pipe.