Comparing various Mk7 GTI suitable intake systems has been the purpose of several months of airflow testing.  With a collection of some of the "best" aftermarket systems now tested a question of how well the stock Mk7 GTI intake, when modified, can compare is up for determination.
With several aftermarket parts available to enhance the stock GTI intake different combinations were tested to evaluate the "best" combination for improving airflow.
The aftermarket aFe air filter and MST Performance inlet hose and Turbo Inlet Pipe (elbow) proved to be the top performing combination on the flow bench.
Note: Later testing with a 034 Motorsport "Insuction Bundle" shows it flows slightly more (9 CFM) than the MST / aFe combination. 
Note: The grate inside the stock airbox has been removed based on previous results showing a slight improvement in airflow when it is not present.
The chart below shows a summary of the airflow readings from the stock GTI air intake along with aftermarket intakes.  All tests are using an adapter that simulates the IS20/IS38 turbocharger housing inlet.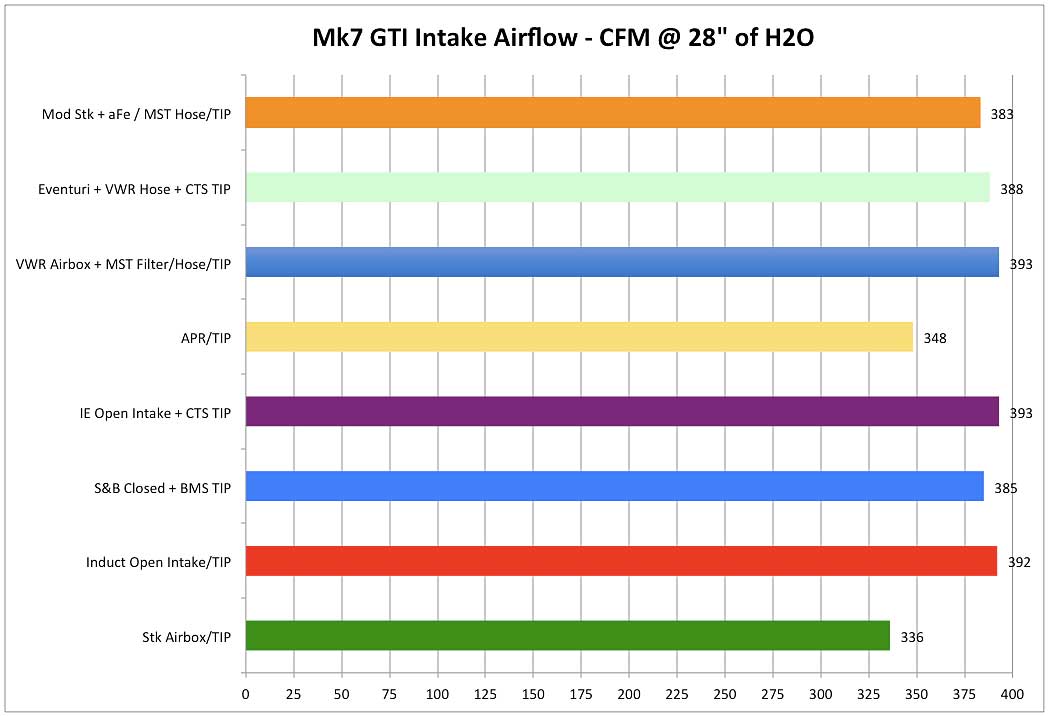 The modified stock Mk7 GTI intake does not surpass the airflow capacity of the top performing aftermarket intakes, but it gets close.
The modified stock intake flows approximately 97.5% of what the top performing aftermarket intake flows.
Note: These results may not apply to turbochargers with compressor inlets that are designed differently from the IS20/IS38.
---
At a combined cost of approximately $250 the MST inlet kit and aFe filter deliver top level airflow performance.
---
034 Motorsport Insuction Bundle vs MST / aFe combination post.