This question comes up a great deal, "which air intake should I buy".  An equally common response is the cringe worthy:
Usually somewhere there is a statement that the modified stock airbox performs as well or better than aftermarket intakes.
Unfortunately this advice is lacking in details and is not correct.
The stock airbox can be modified to use an aftermarket filter, such as the aFe panel filter that I regularly test with, and by the removal of the "snow guard" grate that sits in the bottom of the airbox.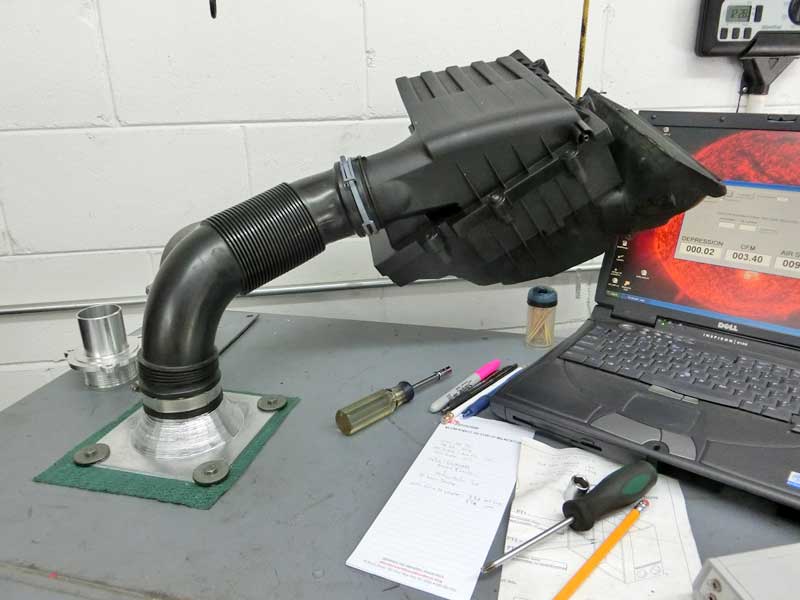 With this setup connected direct to the flow bench with the stock accordion hose the setup flows approximately 527 CFM @ 28″ of H2O.
In comparison, I recently tested the Forge Motorsport intake also connected direct to the bench using the supplied Forge hose.
The Forge intake measured approximately 632 CFM @ 28″ of H2O.
These numbers are not close to being equal as is shown on the chart.
The Forge intake allows a gain in airflow of approximately 20%, not an insignificant amount.
A notable difference between this test and how I more commonly test intakes is the absence of the Turbo Inlet Elbow and the IS20/38 compressor housing simulating adapter.  I usually test with those parts because they represent a common configuration for the Mk7 GTI, but the stock size turbo inlet is not necessarily going to be used with every turbo and in situations where something larger is used, the benefit of an aftermarket intake may be significant.