Background:
In response to a request to flow test the USP Motorsport tear duct intake I contacted USP to inquire about the possibility of borrowing one for a flow test.  USP declined to cooperate, they did suggest I could buy the intake if I wanted to test it, so I looked for other options.  Fortunately I was able to locate an owner with one nearby and was able to use it for this test.
The Test:
The USP intake is attached to the flow bench using the supplied USP parts with the addition of a generic style inlet elbow that attaches to an adapter that simulates the compressor housing inlet of an IS20/IS38 turbocharger.
The airflow through the intake is measured at a depression of 28″ of H2O.
The Results:
The USP intake flows 353 CFM @ 28″ of H20.
This result along with the airflow readings from a number of other intake options are shown on the chart:

Conclusion:
The USP Tear-Duct intake for the Mk7 GTI flows 353 CFM @ 28″ of H2O which is approximately 5% more than the GTI stock intake.
Ranked against other GTI intake options the USP intake is in the bottom 25% based on airflow measured.
---
Experiment:
Curious to see if a different shaped inlet would change the airflow through the USP intake the metal inlet was removed and replaced with a round funnel inlet.
Note: The funnel inlet is normally used for attaching parts to the flow bench and drawing air through in the opposite direction of this experiment.  I had mild curiosity to see what would result from this change but wasn't interested in spending time making an inlet.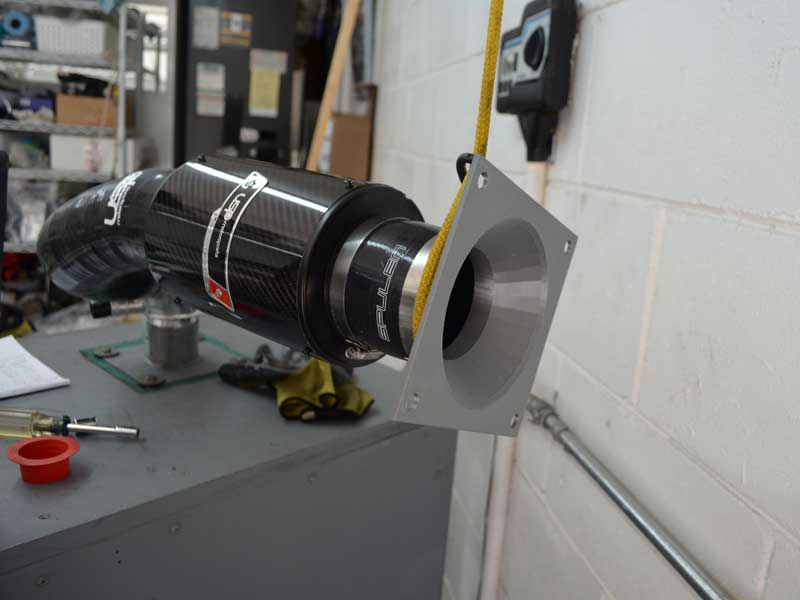 With the modified inlet the USP intake flowed 362 CFM, almost 8% greater than the stock GTI intake.
---
USP versus APR
The USP intake (353 CFM) is likely to be compared with the similarly performing APR intake (348 CFM).  In consideration of that it's worth noting that all flow testing with the APR intake was done using the APR turbo inlet elbow.
The USP intake does not come with an inlet elbow and therefore I chose a well performing generic inlet elbow to connect to the USP intake.  The generic inlet elbow attached to the USP intake has been measured to flow 18 CFM more than the APR turbo inlet elbow.
If the APR intake system were flow tested using a higher flowing inlet elbow it would likely flow equal to or slightly better than the USP intake.
Update: The APR intake was retested with an MST inlet elbow and performed better.