Background:
Taking advantage of having the flow bench set up for a different test this is a look at how the MST turbo inlet elbow compares with the stock GTI inlet elbow.
Previous testing has been conducted with these parts where the airbox is mostly removed aside from the top half of the airbox to help smoothly guide air into the turbo inlet hose.
In this test the assembled stock airbox has an aFe filter installed and I am using an MST hose and Racingline hose to try and keep the inlet hose consistent as possible.  The variable of interest is the Turbo Inlet Elbow.  The MST elbow and Stock GTI elbow are being compared.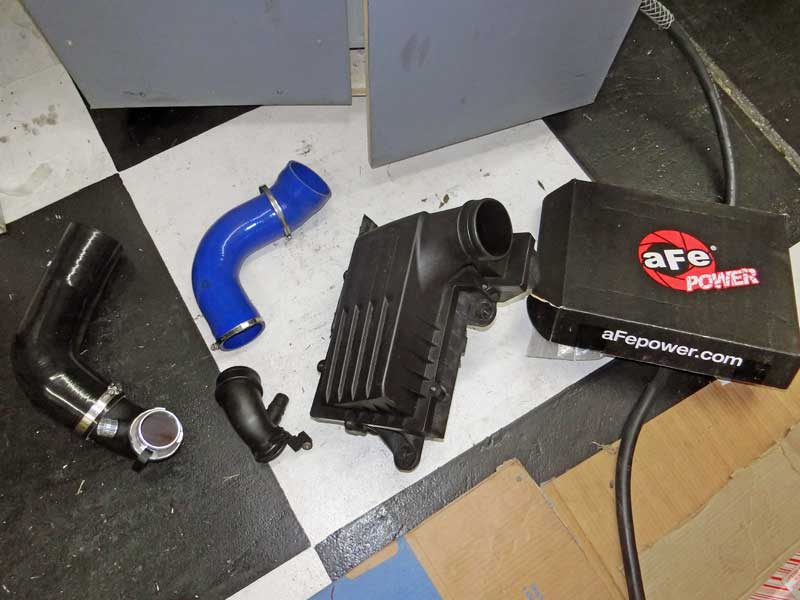 The Test:
The intake components are assembled as they would be on the GTI and the inlet elbow is attached to a flow bench using an adapter that simulates the compressor inlet housing of the IS20 / IS38 turbocharger.
The MST inlet elbow uses the MST inlet hose and the Stock GTI inlet elbow is using the Racingline inlet hose.
First the MST setup is tested:
The Stock GTI inlet elbow is tested second:
Results:
Airflow measured at a test depression of 28″ of H2O for each setup is shown on the chart:
There is a 9.2% difference in airflow between the configurations tested.
Conclusion:
Consistent with previous measurements the setup with an aftermarket turbo inlet elbow flows more air than the stock GTI turbo inlet elbow.