Continuing the evaluation of eBay sourced intercoolers for the Mk7 GTI a direct fit intercooler is flow tested.
As with previous flow tests the intercooler was connected to the flow bench using a silicone connector hose.  The inlet side of the intercooler had a 'velocity stack' attached to a silicone connector in order to provide smoother airflow into the IC core.
The flowbench was operated to a test depression of 28″ of H2O and the airflow through the intercooler was then recorded.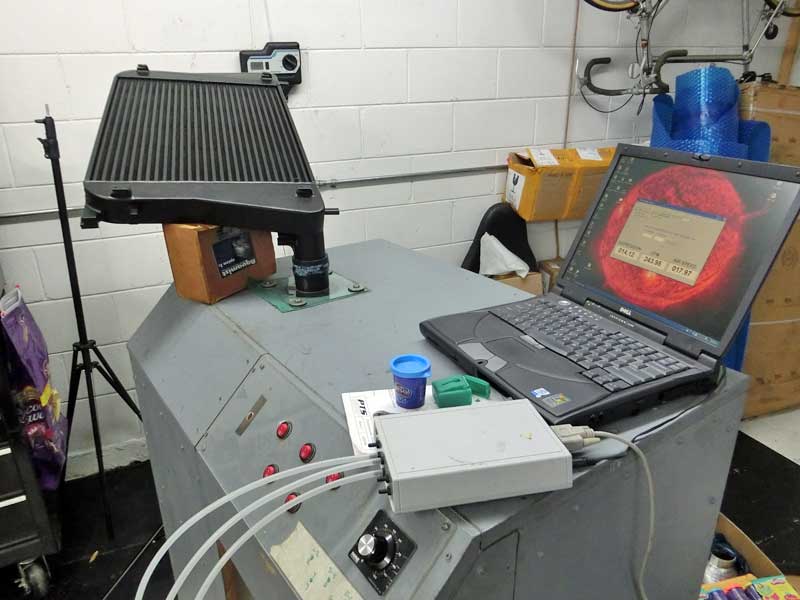 Results
The eBay direct fit intercooler flowed 258 CFM at 28″ of H2O.
Comparison of this result with the smaller eBay front mounted intercooler, as well as the estimates * for the Integrated Engineering IC and stock Golf R IC, are on the bar chart below.
The comparison with the Integrated Engineering and Stock R intercoolers is unreliable because the eBay intercoolers have been recorded on the flowbench but the IE and R ICs are based upon estimates.
Conclusion:
Results of airflow measurements using a flowbench show that an eBay direct fit intercooler flows approximately 32% more air at 28″ of H2O than an eBay front mount intercooler.