The hoped for final step to turning the AWE Tuning Track Edition catback into a livable daily driver entailed the addition of a Magnaflow muffler in the location that the Vibrant Ultra Quiet Resonator was located.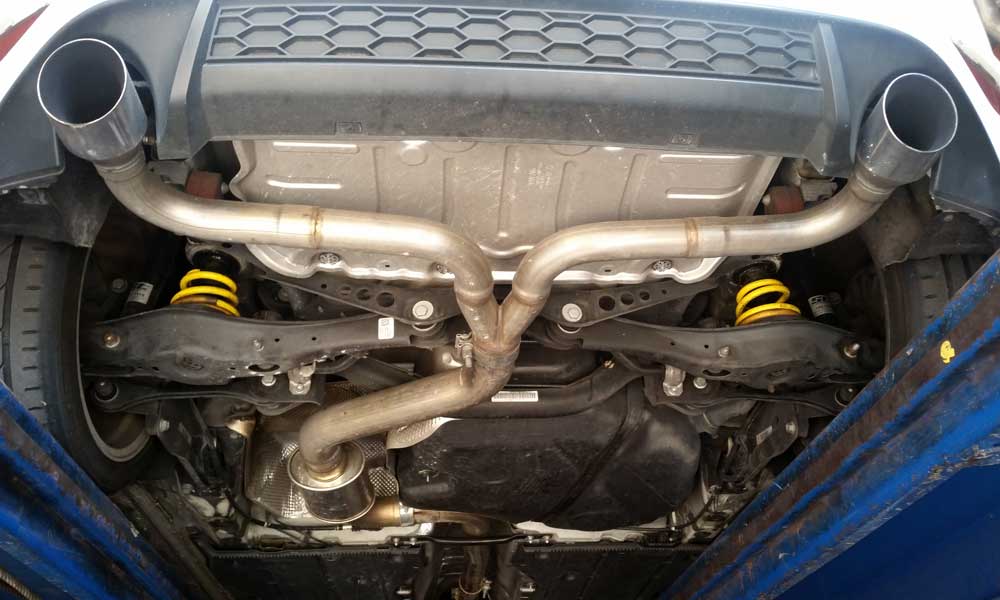 After checking out the size of the Vibrant resonator and the clearance around it I went looking for a muffler to stick in place of the resonator.
Candidates for the job consisted of:
Borla muffler
Vibrant muffler
Magnaflow muffler
Top criteria for the replacement unit was size, I was looking to fill the space with a decent size muffler and there was not a lot of room to work with.
Based on published dimensions the Magnaflow was best suited for my needs and that is what I purchased.
Before taking the GTI back over to Superior Muffler in Orlando I did a size comparison to make sure the muffler would fit where I wanted it to be installed.  It was going to be tight, but it would fit.
After installing the Magnaflow muffler I was very pleased with the volume of the exhaust.  During normal driving the exhaust note is no longer intrusive, and most important for this effort the exhaust sound level when cruising on the highway is less than wind and road noise.
After driving around the past couple of weeks with the unmuffled exhaust sound, installing the catalytic converter, Vibrant resonator in the midpipe, and Magnaflow muffler at the rear has made the car seem too quiet!  I'm guessing this is just because I have become accustomed to hearing the exhaust being intrusive and I will quickly readjust to the more civil volume.