Background
A result of the airflow tests with inlet elbows from 034 Motosport, Integrated Engineering (IE), and DBV2 was that the IE did not flow as much as the 034 elbow during the large adapter test.
This result was not expected due to the IE elbow having a much larger entry and an exit diameter that was only 0.5 mm less than the 034 Motorsport elbow.
Test Goal
To investigate a possible cause for the large adapter airflow performance difference each of the elbows would be tested for uniformity of airflow exiting the elbow.
The turbo elbows are attached to the flow bench by the turbo intake pipe and air is pushed out from the flow bench and through the turbo elbow.
A velocity probe is used to measure the airflow speed exiting the elbow at several locations, illustrated in the picture below.
Readings at each location are taken twice and then averaged.  The center reading is baseline and the other readings around the periphery are compared and reported as a percentage change in airflow velocity.
The percentage change values are then plotted along the y-axis of a chart, with the x-axis showing the sample location around the outlet.
Results
The readings made with the 034 Motorsport and Integrated Engineering elbows are shown on the chart below, along with previously measured values for the stock Mk7 GTI turbo inlet pipe.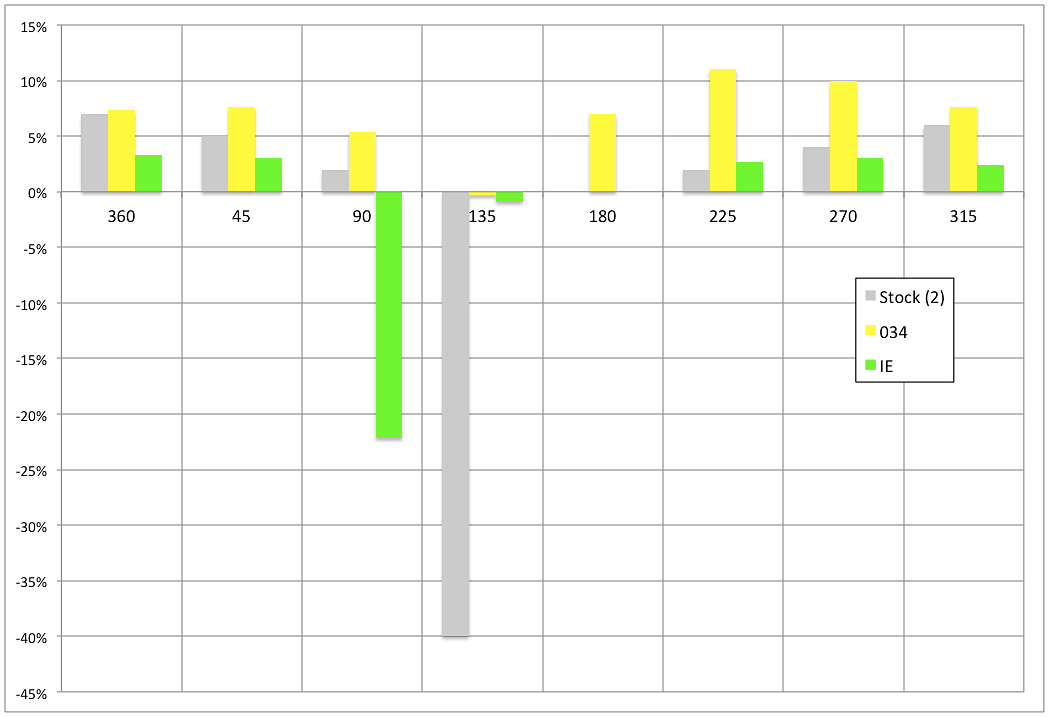 Most notable from the results is the drop in velocity by the IE elbow in the area near the PCV port.  Other than the stock elbow there has been no other elbow tested that has shown as significant a drop in airpeed at any location around the elbow outlet.
PCV Ports
Looking at the respective PCV ports of each of these products shows a potential source of the measured difference.
---
---
Conclusion
The results of taking measurements of airflow velocity at several points around the outlet of the 034 Motorsport and Integrated Engineering turbo inlet pipes show a significant difference in the area near the PCV port.
Visually it is apparent that the size of the PCV port of each elbow is significantly different.  The size of the port area likely alters the contour of the interior surface of the elbows.  This potential difference in the curvature of the surfaces leads to a conclusion that the PCV port of the IE elbow correlates with, and possibly causes, an area of reduced airflow velocity.  The area of reduced airflow readings may be the cause of the Integrated Engineering elbow flowing less than the 034 Motorsport elbow on a large adapter airflow test of each product.