Problems with a PTE intercooler that had been planned to be part of a bi-cooler test led to obtaining an alternative intercooler from Treadstone.
The model is the TR8C which is available in two core lengths, 22″ and 24″. The 22″ core was selected.
Properties of interest are good airflow / pressure drop, and secondarily good cooling. Because the intercooler will be used as part of a bicooler arrangement in conjunction with a stock location aftermarket intercooler, cooling performance is not of primary concern.
The Treadstone TR8C is a good candidate for a couple of reasons. With core dimensions of 7.8″x 22″ x 3.5″ it makes good use of the available space. The shorter 22″ core was selected to aid airflow performance, a longer core would produce more pressure drop. Again with cooling performance not the primary concern giving up a little cooling to improve airflow is acceptable.
The TR8C differs from the TR8L core, that is used in the LTMotorsport FMIC kit, in that the inlet and outlet are located in the center of the end tanks. This location should help with reducing the change in direction that airflow makes entering and exiting the intercooler, which should help with airflow performance.
The TR8C inlet and outlet are 3″ diameter, the largest of the front mount intercooler options I have considered. Again this should aid with increasing airflow across the intercooler.
The picture above shows a comparison of the inlet of the TR8C end tank versus the inlet of the Majesty bicooler. The yellow arrows are the same length.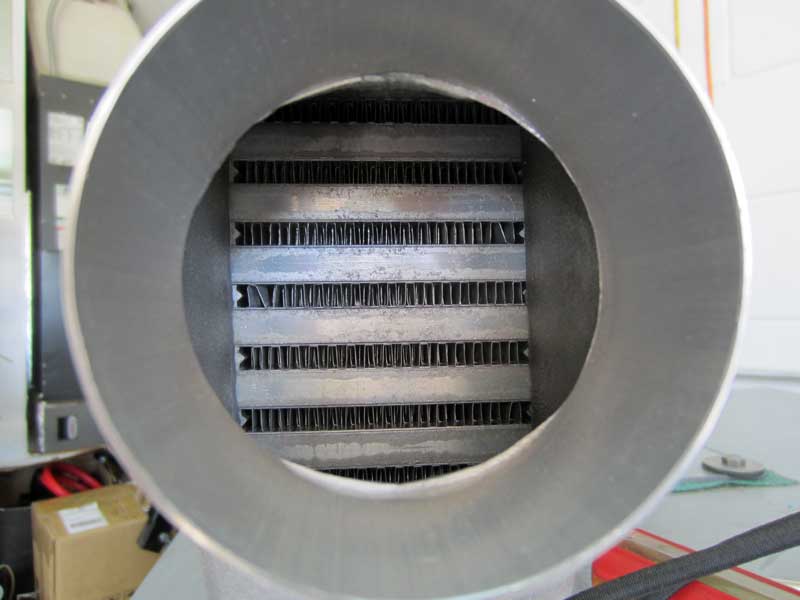 The interior fins look acceptable. A bench cooling test will be performed to gauge how the TR8C compares with the other FMIC options that have previously been tested.
Presently I don't have proper reducer hoses to use with this intercooler, also presenting a limitation to testing the product. The TR8C is flow tested, but I anticipate the airflow reading will decrease when the reducer hoses are attached to the inlet and outlet.
For now the TR8C is attached to the flow bench using a straight 3″ coupler and the intake end is left unmodified. Normally a silicone hose with a bellmouth entry would be used at the inlet.
Results of the flow test show the configuration flows 269 CFM @ 28″ of H2O. This is shown on the chart compared with other FMIC tests:
The initial results are positive, although predicted to be higher than in a more operationally configured test. Once silicone reducers are available the test will be repeated.