The data logged results of the first revision to the custom E30 tune that Stratified is making are contained in this post.
The revised tune is shown with the solid lines and the base tune is shown by the dashed lines.
Increasing the boost pressure is the most noticeable change to the software:
The Air-to-Fuel ratio has remained consistent with the prior readings.:
Timing during the initial boost onset has been reduced slightly: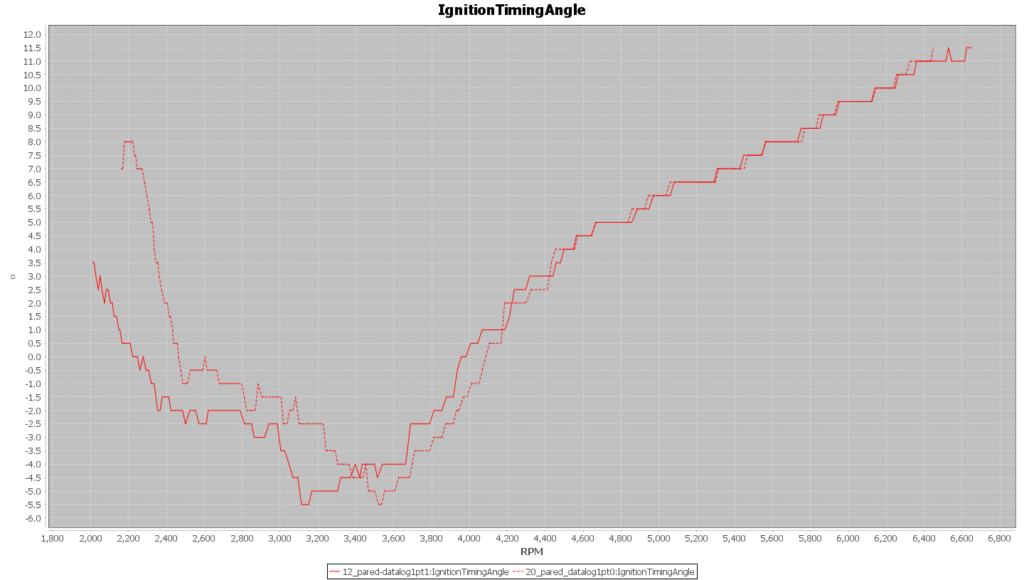 There is a consistent dip across revisions in the Fuel Rail Pressure beginning around 5,000 RPM:
Notably this dip was not present when operating on 93 octane fuel with more boost pressure:
An anomaly I am getting during the pulls is a Max Engine Speed alert which is generating a caution light and putting the car into a restricted operating mode. Some troubleshooting will be done to determine the cause of that.
These latest changes have resulted in another decrease of the acceleration time over the engine RPM that I am evaluating. The rev 1 data is shown by the orange columns: