In June of 2019 I received a pre-production Shuenk IS38+ turbocharger to gather data with.
Miles
Over the past twelve months I have put 5,333 miles on the turbo while conducting quite a few tests that involved pushing the turbocharger into boost.
Boost Curve
In addition to testing aftermarket parts there has also been work developing a custom ECU tune with the boost profile shown below: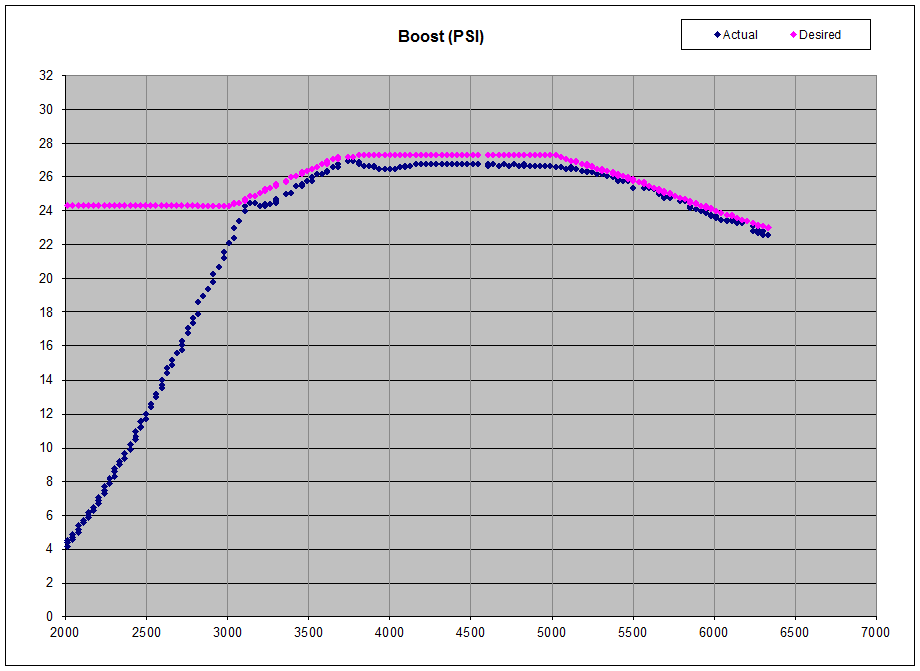 Boost Cycles
Probably more taxing of the product has been the process of making updates to the Stratified DSG TCU tune.  Evaluating gear shift response can result in pushing the turbocharger to the point that boost is generated quite often.  A typical checkout of a DSG tune revision includes generating the boost response over time shown on the chart below:
Because gathering data for DSG response covers a number of driving conditions I usually perform data logging over a period of a day or two.  This helps me to form subjective thoughts on the TCU tune response and produces more boost events for the turbocharger.
Depending upon the particular area of focus for shift behavior it may be useful to switch between DSG tune revisions to make back to back comparisons, leading to more boost events for the turbo.
The charts above illustrate the high number of boost cycles that the turbocharger has been subjected to over a three day period.
Other Stuff
Several months ago a dyno session was held to evaluate how well the car would perform on the stock GTI fuel pump.  Positive results were obtained and since then an HPA HPFP has been installed and ECU tuning with EQT has continued.
Wrap Up
During the time that the Shuenk IS38+ has been installed on my GTI it has been functioning without any issues and I do not currently have any plans to replace it with a different turbocharger.