In a previous post the selection of three candidate intercoolers for a bicooler setup was described.  Out of the full list of candidates the following three were identified as good candidates:
Treadstone TR8L
ECS Tuning
Vibrant 12810
Treadstone TR8L
Previously the TR8L was flow tested and installed on my GTI for evaluation.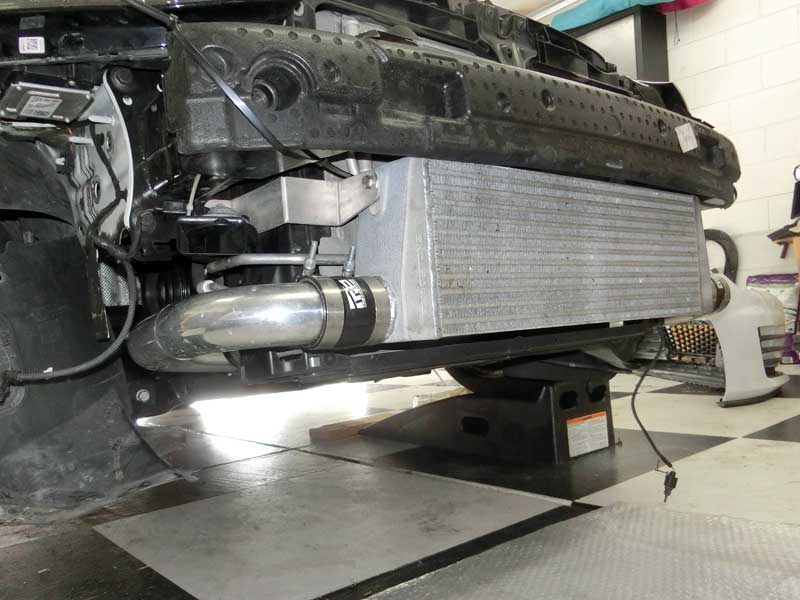 Flow performance is good for a FMIC and cooling performance versus the APR stock location intercooler is shown in the chart: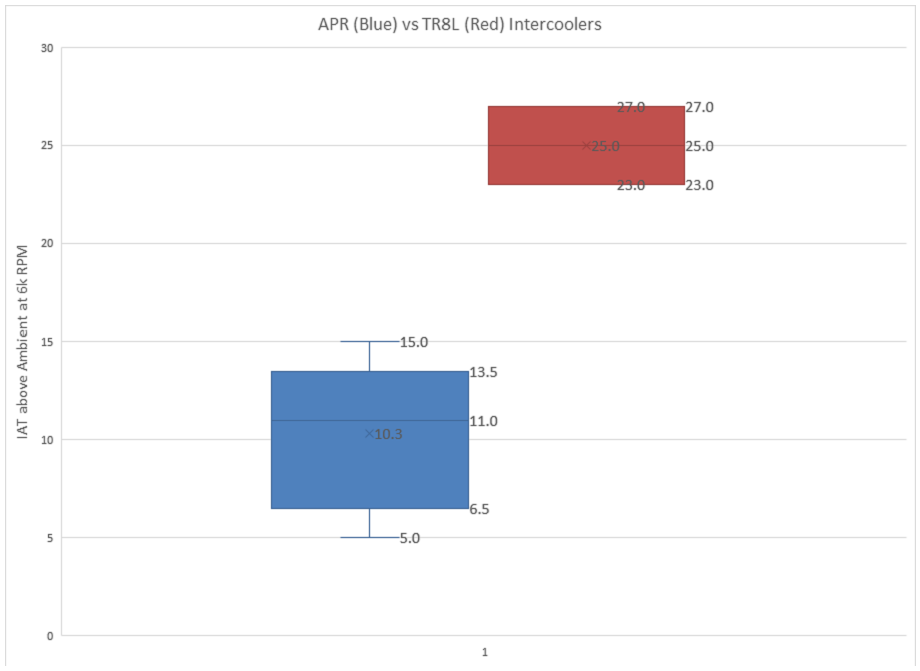 The chart shows the IAT at 6,000 rpm during a third gear pull with an IS38+ turbo operating at a peak of 27 psi.  I'm looking for better cooling performance, making the TR8L IC a backup option.
Note: This is the Treadstone TR8L which is the high airflow version of the TR8 intercooler.  It's possible that the TR8 version might cool better.
ECS Tuning
The ECS intercooler is a more recent release and I have not seen any end user data with an IS38 turbo published to give an idea of how well it cools.  ECS publishes data they collected but I'm skeptical of vendor claims about their own products.
I contacted ECS Tuning about obtaining a sample to flow test and things were looking promising but partway through the discussion ECS stopped responding and after several follow-ups on my part I abandoned the idea, ending my consideration of the ECS product.
Vibrant
The Vibrant 12810 core is used in a couple of GTI FMIC setups.  The intercooler was available to be flow tested and the results were less than I was hoping for.  On the other hand the core has been shown to deliver good cooling performance warranting a closer look at how well it meets the goals I've established.
Next Step:
For now the Vibrant intercooler is the top candidate for filling in for the eBay core in a bicooler setup.
I'll next compare the current eBay FMIC with the Vibrant 12810.