Background
Searching for the best performing intercooler for my Mk7 GTI has been an effort that is taking several approaches and considering multiple factors.  It's also been going on for a while.
A pair of often used intercoolers are the APR stock location replacement and the contentious Integrated Engineering version 1 stock location IC.  (See IE part I and part II for my opinion on the controversy).
This comparison pits the IE version 1 and APR intercoolers to a cooling efficiency test using my Mk7 GTI.
The two intercoolers are very similar in size and weight.
Test
For this test each intercooler has been installed on my GTI to obtain temperature readings while operating on the street.
The test conditions are a full throttle third gear pull past 6,000 RPM.  The Shuenk IS38+ turbocharger is being used with a custom EQT tune that peaks at 27 psi of boost.
The intake air temperature in excess of ambient air temperature at 6,000 RPM is the measure made for comparison.  A minimum of four data points are recorded for each intercooler.
Results
The box-and-whisker plots show how the readings compare for these two intercoolers.
The Integrated Engineering intercooler appears to slightly outperform the APR IC based on the chart, but a statistical t-Test is inconclusive.  The variance of the APR data is most likely preventing the conclusive determination, I suspect with a few more data points the IE would have the edge with confidence.
Combing this result with those from the air flow testing places the IE intercooler onto the composite performance chart as shown below: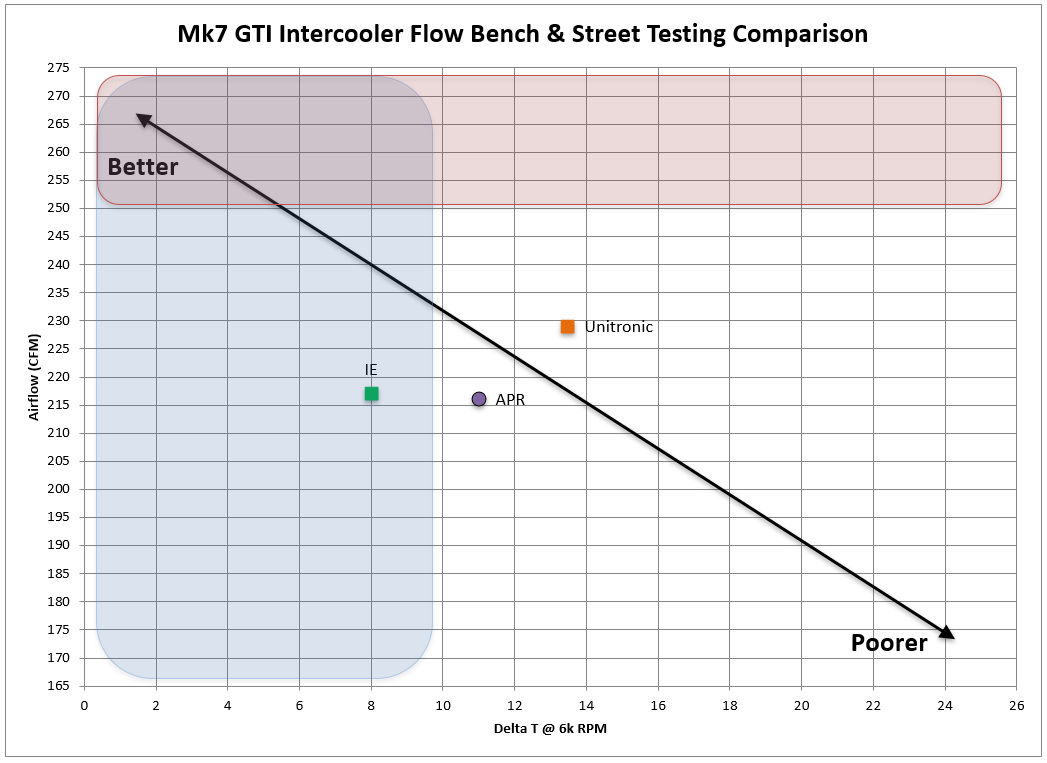 Note: The delta T (x-axis) scale is expanded to help differentiate the data points, but there are less than 6 degrees Fahrenheit separating the three intercoolers. 
Conclusion:
The APR and IE intercoolers are both solid performers, but as in the Highlander movie:
Considering these street results, along with the bench cooling test, shown below:
The Integrated Engineering intercooler will remain installed on my GTI for the time being while I search for another candidate to compete for the top spot.
---
Caveats
Other criteria could be chosen to compare these products and the results could then be different.   The tests are ones I have chosen based on several considerations I have.  Consider the methods when deciding how much confidence to put in the results.